For many years, companies have been using service providers to manage their TMA (Third Party Application Maintenance). They set up SLA (Service Level Agreement) type contracts with their IT development provider, by which the latter commits to provide a set of services to one or more clients. SLAs are used to define customer expectations and hold companies accountable for their promises. For example, it is common for a service provider to commit to handling 90% of critical tickets (which allows for a 10% margin of error) within 2 hours.

However, it is often complicated to reliably and easily monitor compliance with the commitments made by the various parties. Data extraction and analysis procedures are often manual and tedious. On a day-to-day basis, prioritizing activities is also a major challenge.

In this article, we will briefly introduce you to some elements to better understand the use of SLAs. Then we will detail how to ensure that the commitments between the different parties, in particular those concerning deadlines, are well respected during the development of a product (or during an IT project). Finally, we will see how to optimize your SLAs on a daily basis.

Two tools will appear in your reading, but the explanations are valid regardless of the tools:
Jira (Jira Service Management), a bug tracking, incident management and project management system. This tool also allows you to configure SLAs by project.
Power BI, theself-service BI tool from Microsoft
DEFINE ITS SLA, JIRA IN SUPPORT

Let's get back to our SLAs. The first thing to know is that a customer commitment can be conditioned by several criteria. Among them, the only mandatory one is the change of status of a request, previously translated into a ticket. For example, we will monitor the time between the "Open" and "Taken into account" status to ensure that the request was taken into account within the imposed timeframe. Then there are optional criteria. Among them, there is, for example, the type of ticket that we fill in when we create it:
Service request - Ex: Need a new computer
Incident - Ex : The website is not working anymore (infrastructure problem)
Anomaly - Ex: The AA button does not work anymore
Request for quotation/quotation - Ex: Request for quotation for the development of
product AA
Then, it is also possible to use the criticality which can be blocking, major, minor or low. Finally, it is possible to configure SLAs according to custom fields (added on demand).


Once the SLAs have been defined and configured, in practice, the tool displays on the tickets created, the imposed and remaining deadlines in the form of a timer.
As illustrated below, the service provider must have provided an initial response within 2 hours. Thanks to Jira we can see that he has 1h53 min left to do it.

As we can see, Jira allows an initial monitoring of SLAs, ticket by ticket. Nevertheless, it is necessary to have a more macro steering tool to answer the problems related to SLA management. This is what we propose to discover in the second part.
REPORTING, THE KEY TO A LASTING RELATIONSHIP?
How can we ensure that the commitments between the different parties are respected?

One of the solutions to your problem is to produce a dashboard in the business intelligence tool to centralize and automate the generation of indicators. The challenge of the latter is to make the reporting used by both parties more reliable. The integration in your decision support system will also allow you to perform a top-down macro analysis (from the highest level to the finest detail), to save time in reporting and finally to regularly monitor the respect of commitments.
Our experiences with our customers have revealed three major needs to be addressed in order to meet the challenge of respecting commitments. Among them, we note that there is a strong need for internal management of customer commitments, internal inter-team monitoring of commitments (OLA = Organization Level Agreement) and the provision of reporting to customers.

Below is an example of a dashboard we designed for one of our clients:
In this report we can see the SLAs of the closed tickets. For example, if we look at the critical tickets in the bottom left corner, we notice that 66% of the tickets are solved within the deadline. We are therefore below the threshold defined in the contract because the cursor is positioned in the orange part of our visual. Filters allow us to analyze these figures from different angles (project, type of ticket, customers, etc.) in order to make the appropriate decisions.
Now we are going to deal with the second problem. The one related to the daily optimization of SLAs.
How to optimize your SLA?

In our view, two major actions can be taken:
The first action is to develop an optimal customer (UX) / service provider experience. To achieve this, we suggest the following three keys:

Offer a self-service knowledge base. This can be a documentation or a FAQ created on Confluence available to your customers in a few clicks. Thanks to this, callers will become autonomous. They will be able to solve their problems even before creating a ticket. This will reduce the number of tickets, reduce the analysis workload, and thus ensure better compliance with SLAs.
Facilitate complete and accurate ticket design through a simplified interface.
Automate repetitive actions. We can make SLAs more reliable and save time thanks to the automation engine in Jira Service Management. In this case, the support team no longer has to deal with low value-added tasks. Instead, they can concentrate on value-added actions such as qualifying, investigating and resolving customer tickets.
The second action is to create an operational management dashboard. This will allow us to prioritize the tickets to be processed on a daily basis according to the following elements
Remaining or elapsed time on defined SLAs (Ticket Acknowledgment, First Response, Ticket Resolution)
Project
Type of request
Criticality ...
Note: It is essential to take into account the opening hours of the department processing the tickets.

Here is an example of a dashboard we have developed. You can see a filter area on the left and macro indicators at the top. They give you an overview of the number of tickets to process, globally, then broken down by SLA and finally by remaining time. This breakdown should help prioritize the tickets to be processed on a daily basis. The more the volume increases, the more essential this analysis becomes.
Once we have looked at the status of our requests in a macro way, it is then time to go into the details of the tickets. Thus the reporting below, allows to consult, SLA by SLA, the tickets concerned, with the level of detail which one wishes. Afterwards, it is even possible to access the ticket details in Jira by clicking on the reference (here, Issue Key).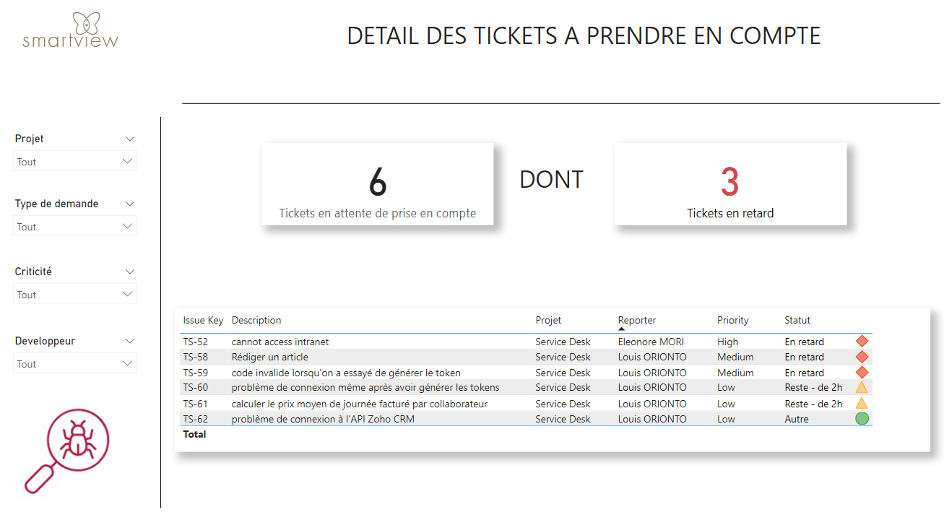 In conclusion 

As you will have understood, the combination of Atlassian tools (Jira/Confluence) and a BI tool such as Power BI allows you to manage your TMA on the one hand and to make your SLAs reliable and optimize them on a daily basis on the other hand. The advantages of automated SLA management are numerous. The most important of them is undoubtedly that it considerably improves the relationship between the customer and his service provider in two ways:
Increased confidence in the data exchanged
A rate of compliance with commitments improved from week to week