MAKE YOUR ITSM TRANSFORMATION A SUCCESS: FIND OUT HOW SMARTVIEW CAN ADVISE AND SUPPORT YOU STEP BY STEP IN YOUR CONTINUOUS IMPROVEMENT PROCESS.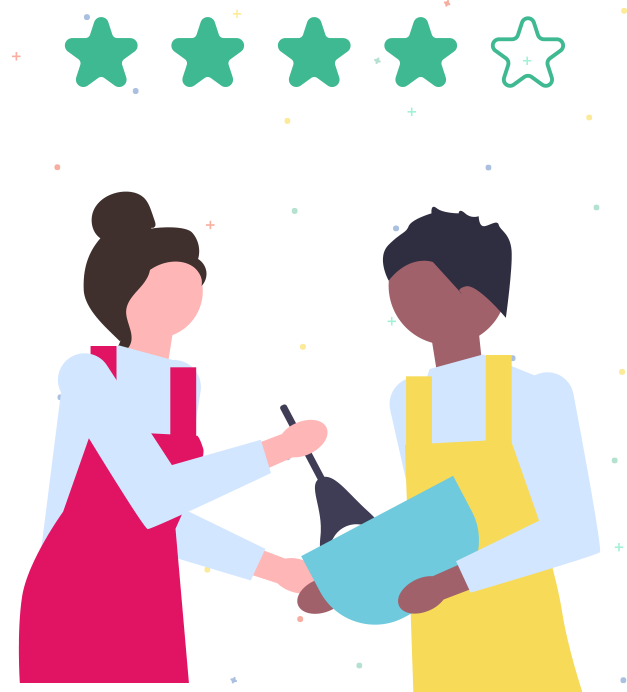 In cooking as in ITSM, it's exactly the same thing: it's by doing that you learn and grow from each attempt.
You can't just follow your grandmother's recipe for pancakes and get the same result. It's only with experience that you can reproduce (and even surpass) the original result.
How will SmartView help you?
SmartView's core concern is to provide you with more than just support: we share our experience with you, with honesty and transparency .
What motivates us is to work with you to build the ITSM approach that's right for you, and to support you in your choice of tool. This will enable us to accurately translate your processes and take into account ITIL v4 best practices.
Clearly, a transformation like this will take place over several months, and must take into account your current maturity. We take the time to accompany you step by step. We help you define the roadmap that will enable you to reach your final objective. This approach promotes change management throughout the process.
Our support for your ITSM approach
At SmartView, we keep one watchword in mind when working with our customers: simplicity!
The aim of your ITSM transformation is to structure all the services you offer your customers, enabling you to create value. In our view, there are 6 main steps to follow when setting up an approach: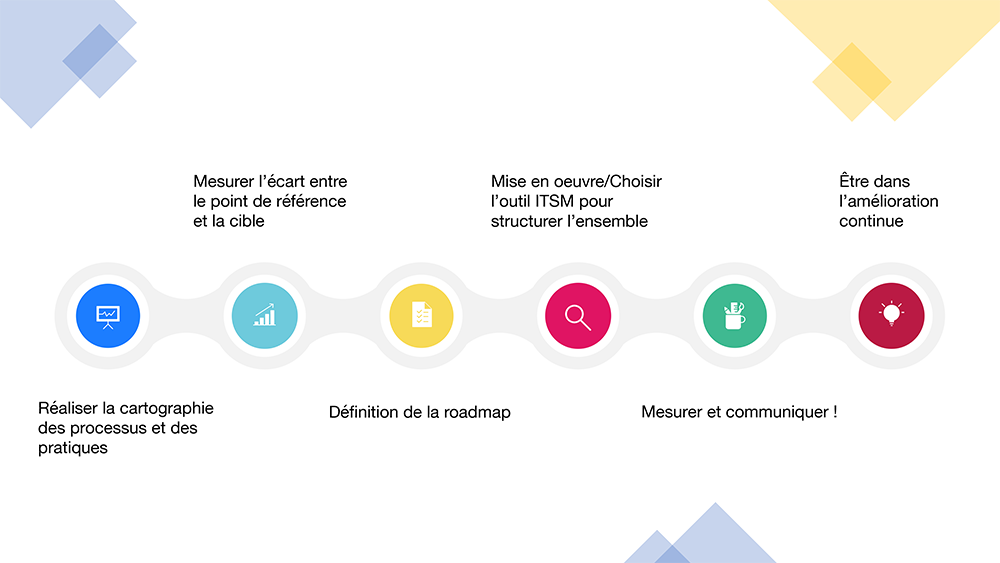 Implementing an ITSM approach or an ITSM tool is part of a company's major digital transformation. It is therefore important to follow the roadmap step by step, and to take the time to include all users in the adventure.
The benefits of implementing an ITSM approach
Continuous improvement enables companies to act progressively and control their costs.
ITSM is a real differentiator for you on several levels:
Performance gains
Automating low-value-added tasks frees up your teams' time for high-value-added tasks that are difficult to automate. As a result, your team will be able to process a greater volume of tickets, more quickly.
Quality gains
The time saved on automated tasks will enable your teams to focus on the quality of your services and optimize customer satisfaction.
Financial gains
The ITSM approach organizes and centralizes your support activities. You'll be able to manage your activity more easily, and keep your costs under control.
Choosing the right tools for your ITSM transformation
No tool will meet all your criteria! The most important thing is to find the right balance between expected functionality, cost and time constraints, flexibility and scalability.

Implementing an ITSM tool is not an objective. It's the means that will enable you to implement your approach.
At this stage, you've got a clear idea of your target market, and the "how" question arises. This involves seeing how the tools on the market can meet your needs. To finalize your choice, also take into account organizational, time and budget constraints.
Atlassian recognizes us as an ITSM specialist partner