For many years, Excel has been the number one reporting tool. Adopted and anchored in the uses of the business and management, it is perceived as the most natural reporting tool to complete the reports already present in ERP or CRM.
However, the tool has limitations that can lead to significant inconvenience and frustration over time. Problems of data reliability, lack of uniqueness of indicators, lack of performance and long and costly maintenance of macros regularly degrade the use of your data.
In terms of management and steering, the designers of dashboards very often lock themselves into the use of detailed tables, which are certainly very operational, but which hinder perspective-taking and prioritization.  
To deal with these limitations, many companies are turning to a proven alternative, Power BI, the businessintelligence tool from Microsoft.
To illustrate this point, we propose to present the case of Aromandise, a small business in the south of France with national success.
THE DECISIONAL TRANSFORMATION OF AROMANDISE
WHO IS AROMANDISE?
Aromandise is the story of a family business that was founded in 1993 in Montpellier and that now has about thirty employees.
It is a company that markets natural wellness and lifestyle products associated with gustatory and olfactory pleasure. Proof of their quality work, they regularly win prizes for their products. This was notably the case for their essential oil crystals, green coffee, Matcha green tea or more recently their Japanese curry sauce which received the BIO Natexpo 2020 culinary innovation award.
CHANGE TO PASS A COURSE?
It is also a company that has been able to evolve thanks to the analysis of its data made with the king tool in the kingdom of reporting, you will have understood, Excel.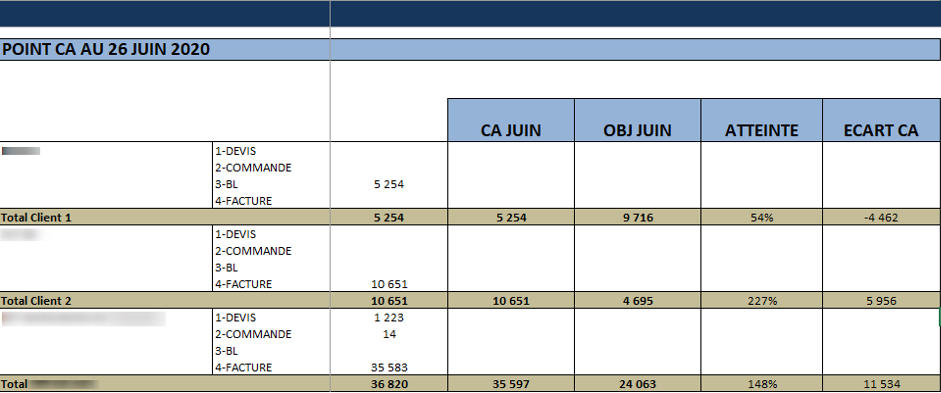 However, one day, management wanted to make a change in its decision-making tools. There were two main reasons for this:
Many data present within the company, unused or unusable.
A lack of autonomy in the design of reports, which were mostly created by one of the departments. As a result, report production times were extended and the department in question was sometimes overloaded.
Attracted by the tool called Power BI, Aromandise decided to contact SmartView and here, a few weeks later, are the results.
A complete, visual and interactive dashboard with a filter zone on the left and macro indicators that give you a direct overview of the health of your company, such as the achievement of objectives or a drop in activity in a sector.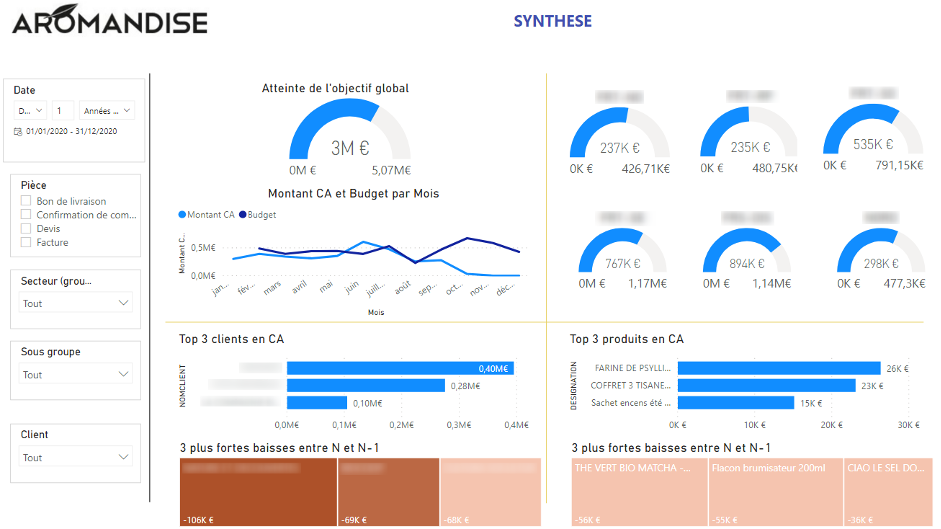 HOW DID WE GET HERE? FROM EXCEL REPORTING TO POWER BI DASHBOARDS
First of all, there is a SmartView process that takes place in 4 steps.
Phase 1: Validate the benefits of the tool for the company - Proof Of Concept (POC) where the objective is to connect to the data thanks to Power BI and to prove through the construction of a report, that the tool meets the expectations of the company - 5 days
Phase 2: Accelerate the implementation of your BI tool (optional ) - Quick design of additional reports allowing you to benefit from your new BI tool at different levels - Between 5 and 15 days  
Phase 3: Leading you to technical autonomy - Training users in all the bricks of the tool - Between 2 and 3 days
Phase 4: Helping with deployment, technical and functional assistance - Setting up data governance, support in framing, rationalization of decision-making, technical assistance in producing reports - On request
That's the theory ... but what about Aromandise?
Step 1: Designing a report for the trade on data from their ERP - 5 days
Step 2: Production of two complementary dashboards - 9 days

Report for the marketing department

Report for the supply department, more complex, allowing to calculate sales forecasts to optimize the management of stocks.

Step 3: Training to be given to all teams - 2 days
WHAT IS THE ADDED VALUE OF POWER BI FOR THE CLIENT?  
The client received three main capital gains:
To be able to exploit new data to answer new questions. Cross-referencing customer and product data, working on customer behavior, calculating forecasts or preparing for customer negotiations with greater relevance are now possible.
Produce reports in a shorter time frame.
Extend the use of data within the company since almost all departments are now consumers of reports and can intervene on them in modification.
FOCUS ON THE BUSINESS ADDED VALUE OF POWER BI
Here are some examples of visuals now used by teams on the different steering levels:
A new macro steering system

Rapid monitoring of the achievement of objectives by a gauge system
Monitoring of the annual margin level compared to the previous year's level, which allows to visualize and/or anticipate the stalls
A new operational management

Quick identification of customers with potential or who are losing ground. We compare the current year's data with that of the previous year and calculate a top of customers in absolute value. A similar work was done for products.
THE KEYS TO SUCCESS?
To achieve your goal, it would be a lie to say that everything is simple. Below are three keys to incorporate into your preparation for a successful implementation of your decision support:
Have a contact person who knows the main elements of your database.
Identify your 2-3 key users because they are the ones who will contribute to the success of your BI implementation. They will be the central elements of your BI system.
If the tool allows you to go fast, you should not rush the deployment. On the contrary, you should give your first users and key users time to get to grips with the tool and make it their own, as they will serve as guides for subsequent contributors.
WHAT NEXT?
The deployment is not yet complete, the cruising speed has not been reached and there are still steps to climb.
We are thinking in particular of the training of employees, the expansion of the scope of data analyzed or the deployment on Power BI service so that each employee can consult the reports online , but one thing is certain, the tool was taken in hand very quickly by employees and has brought real added value and satisfaction to Aromandise.
There is no doubt that its deployment will contribute to the further growth of this structure, which deserves to be known!

Watch our PowerBI webinar on our Youtube channel, which includes practical examples of a sales dashboard.
Curious how we can help you implement effective dashboards at home?