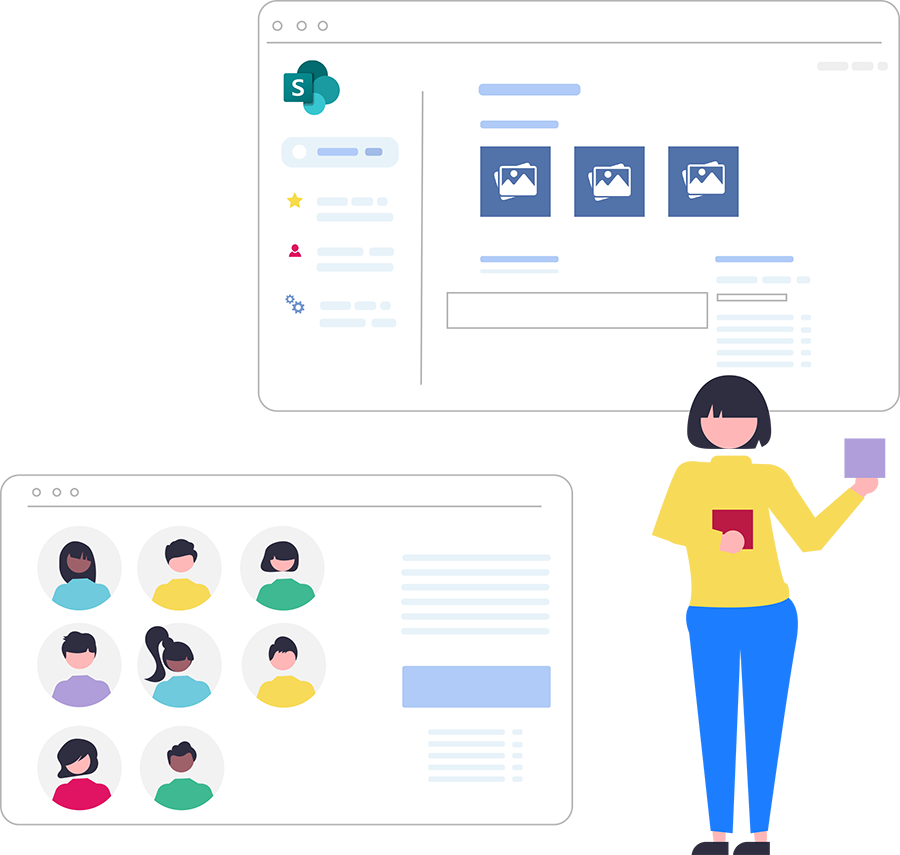 Use the Microsoft 365 tools already deployed to meet the requirements of Qualiopi. This is the objective of the two training organizations of the Intescia group. Dominique Begue, trainer, explains the approach initiated by a SmartView training. Meeting with Joëlle Ruelle, Microsoft 365 services manager and MVP at SmartView.
Joëlle To begin, can you tell us a few words about Intescia?
Dominique The Intescia group, through its business intelligence platform, transforms data into business opportunities. It gathers more than 400 collaborators around 4 entities: 
Doubletrade, whose public market monitoring activity dates back to 1998
Corporama for commercial prospecting and marketing targeting
Scores & Decisions on corporate creditworthiness
Edisys on monitoring and assistance in responding to calls for tender for the construction industry
Joëlle You are also a training organization?
Dominique Yes, Doubletrade and Edisys offer training on public procurement issues.
Joëlle And you, what is your role?
Dominique I train our internal staff, such as sales teams and managers. We have trainers who are experts in public procurement and who train our clients and prospects.
Joëlle The Group's services are offered in the form of subscriptions. Do the trainings follow this model?
Dominique Training is a separate offering from the other Doubletrade and Edisys services. Training is billed according to a pre-established catalog of services.
Qualiopi compliance and Microsoft 365 tools
Joëlle How has Qualiopi compliance affected the administrative management of training courses?
Dominique The National Quality Standard (RNQ) requires us to set up monitoring and continuous improvement of the training courses offered to our clients. Microsoft Office tools have been deployed within the group, but we still need to set up the parameters to streamline the management of training.
Joëlle When did you deploy the Microsoft tools?
Dominique At the beginning, we set up a Sharepoint dedicated to internal training to allow us to track activity. Then, we looked for ways to go further and exploit the potential of the tools more. Indeed, some employees had already tried Power Automate. We therefore wondered how to best exploit it to gain time in productivity on certain time-consuming tasks related to the activities of our training organizations, for example.
Joëlle Going further with Microsoft 365 for training, what does that mean to you?
Dominique The Microsoft 365 solution in place meets the needs of our training activity. Now we want to optimize the tools, for example, to manage the deliverables provided to participants.
Using Microsoft 365 for the Qualiopi repository
Joëlle Before you approached SmartView, had you already started deploying Microsoft 365? 
Dominique Yes, online tutorials enlightened us in a process of curiosity, which is how I discovered SmartView. We then had the idea of using Microsoft 365 to meet the requirements of the Qualiopi standard. In order to set up processes that would allow us to track and store the evidence requested during the Qualiopi audit via Microsoft 365, we needed more concrete and personalized training and that's why we called on SmartView.
Joëlle What role do you give to Microsoft 365?
Dominique : The Microsoft 365 suite can be a precious help in the daily life of the trainers, who will need to maintain the technical solution themselves. This requires a good understanding and use of the most appropriate Office 365 tools.
Joëlle Do you use automation in the training process?
Dominique : Yes, for basic things like notifications, answers to satisfaction questionnaires, sending emails, etc.
Joëlle How do you plan to go further?
Dominique Dominique: Today, training agreements are done manually, which takes time. We would like to deploy a more automated process for this action.
SmartView support for Microsoft 365 tools
Joëlle What did you think of SmartView's support for Microsoft 365? 
Dominique I liked the fact that SmartView was able to adapt to our needs by offering us training in the form of workshops based on specific topics. Damien Celle, the SmartView trainer, is very professional and understood our needs perfectly.
Joëlle : Were you able to really put the training into practice?
Dominique Yes, Damien made us work on concrete cases identified together before the training and we worked on our own Sharepoint.
Joëlle Did you identify things to improve on this Sharepoint deployment support for Qualiopi?
Dominique : Some things confused us. When Damien showed us that to get around certain limitations of the tools we had to write code, we said to ourselves "that's not for us! As long as it's fun (connectors, flows, templates), it's fine, otherwise we move on to computer development. 
Microsoft 365 Training by SmartView
Joëlle How did you rate the level of interaction with SmartView?
Dominique The SmartView coaching went very well, with a high level of expertise and efficiency from the speaker, who was very happy with the relationship. For a distance learning course, it was very good. We learned a lot. Damien was very educational and very involved. Regarding the implementation, after only 3 days of workshops, it is complicated and frustrating because we have not yet had the time to continue what we started to implement with Damien. In all transparency, we still have a lot of work to do on the subject.
Joëlle : Anything else to add about the SmartView training?
Dominique : I liked your reactivity. Things fell into place quite quickly (understanding the tools and seeing what we could do with them). I am satisfied. At the beginning, I had 2 or 3 training offers. Doing "formaction" in the form of a workshop was decisive in our choice for SmartView. The 3 internal participants, including myself, played the game and devoted 3 days to this specific training...
Joëlle How did you communicate this need to the management? 
Dominique Thanks to SmartView, we now know that we can optimize these tools to meet the Qualiopi compliance requirement. We have developed a statement of requirements, a set of specifications. It now remains to be seen who will respond internally. One thing is certain: without support and training from our IT department, we risk spending too much time on it. I'm a trainer, not an IT specialist.
In conclusion
Joëlle How do you see Microsoft 365 evolving?
Dominique Dominique: As far as training is concerned, we have a very good idea of what we want to achieve and how to build it with Microsoft 365, but we will certainly need technical assistance and specialists to move forward. In particular, we need to create the validation workflows and the dashboards (PowerBI Dashboards).
Joëlle : Nice project! We are looking forward to the continuation. In the meantime, I wish you success with your Qualiopi certification. Thank you again for taking the time to answer my questions.